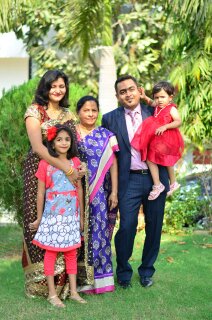 At Amardeep Hospital I am writing down my experience, hospitality of the staff and my 10 days stay.
First of all would like to say about Anirudh sir and Amar Sir, truely both have been blessed by God. Not only my child, but during my stay for these many days, I was watching the kind of operations they do and it is just out of imagination.  We also came to know the different kind of difficulties faced by the new born infants.
Also always use to ask all  kind of small small questions to Amar sir over whatsapp and he have been always very very kind enough to reply all queries be it Sunday or 12 in the night.
Also would like to put in a special word for Dr. Pooja. She  is very co-operative and always ready to help and so is the entire staff of the hospital. I had always felt that they are more concerned about our child then us 24/7.
The hospital is so neat and clean and also the rooms and the facilities provided are extraordinary. It gives a feeling of home and have never realized that we were in hospital.
Once again A Big Big thanks to Anirudh Sir, Amar Sir, Dr. Pooja and the entire staff of Amardeep Hospital.
Regards
Cean Christian and Family
ceanwalter@gmail.com