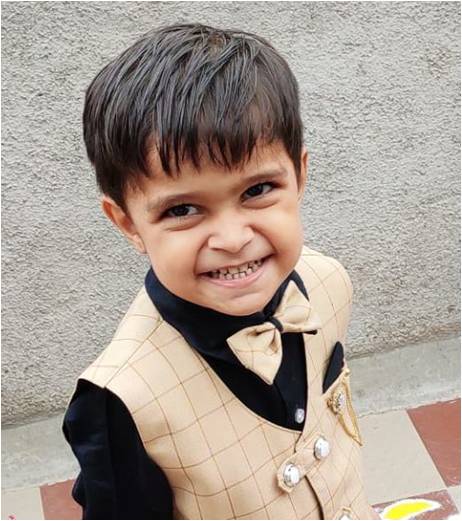 A patient's testimonial is less of a recognition of a doctor's professional expertise and more of a recommendation of a doctor's ability to listen, care and heal.
I can vouch for the fact that your abilities are unmatched.
It is all about our 3.5 yr old kid Hetansh. Hetansh had abdominal pain and vomiting. We consulted our pediatrician at Bhavnagar who suggested blood reports and sonography tests. It was at that time that we came to know that Hetansh is sufferring from a rare problem which caused dilatation of his Common Bile Ducts.
We have got your reference from our family doctor Dr. Bhaskarbhai Kothari and  senior pediatrician of Bhavnagar Dr.  Arvindbhai Kothari and further consulted you for further diagnosis and treatment for my son. After consultation with you, we had the confidence that he was receiving the best possible medical attention.
As advised, surgery was carried out for Hetansh on 11th Feb 2020 without any hassle or problems. His recovery was rapid and uneventful. We really want to thank you for same. He started walking and playing only 4 days after surgery. It was a very happy and thankful moment for us..
We want to personally thank Dr. Amar Shah Sir and Dr. Anirudh Shah Sir for the care you provided to Hetansh during his hospitalization between 10th Feb 2020 to 20th Feb, 2020 at Amardeep Children Hospital, Ahmedabad.
We observed the following during hospitalization:
– Hospital is centrally located. So it is very easy to reach.
– Room ambience was perfectly suited for children & parents. We were as comfortable as we are at home. We never felt like we are in hospital.. because  the entire hospital and rooms are hygenic and very well maintained with regular cleaning of rooms / toilets, sweeping / mopping and regular bed sheet changes etc.
– Regular check-up was carried out by the on duty doctors and nurses, both during the day and night time.
– Systematic and pinpoint Diagnosis…
Being in a hospital is a terrible experience for anyone, but you made us feel like home. Your caring and extra effort to make your patient comfortable is truly remarkable.
Sending my gratefulness to the best doctor I've ever seen. Thank you for your excellent treatment and also grateful for your friendly staff members.
No words are enough to appreciate the service you do. You as a doctor and the staff at your clinic has been really helpful and supportive.
Thank you Again Dr Anirudh Shah & Dr Amar Shah & All Amardeep Hospital Team….
I am Satisfied 1000% with Amardeep Hospital Team….
Regards,
Dharmesh Makwana
Bhavnagar.
Cell : +91 9377946429
Email:  dharmeshmakwana24@gmail.com