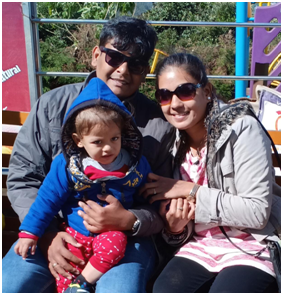 Respected Dr. Anirudh Sir and Dr. Amar Sir,
My 3 year old son was diagnosed with pneumonia. He was a patient at another well known hospital, but we started experiencing consistent problems there.  He was suffering from a very severe infection of his right lung, and after initial improvement his health condition worsened day by day.  We then started to look for another doctor outside. We were directed to Dr Anirudh Shah & Dr. Amar Shah at Amardeep Children Hospital.
Dr. Anirudh Sir diagnosed our problem accurately on the first visit. After consultation with him, we had the confidence that our son would receive the best possible medical attention. As advised, surgery was carried out on my son without any problems. He started to become alright immediately after surgery and his recovery was speedy.
Dr. Amar Sir is extremely good at articulating the plan of care.  We observed that he stays informed on the current procedure and does not order unnecessary tests. Whenever my son needed any further  testing, he makes sure that we understand the reason why and what further information the testing will give him in making a decision about our child's health.
Regular check-up was carried out by the on duty doctors and nurses, both during the day and night time. The staff is courteous as well and tries their best to make you feel comfortable.
The ambiance in the hospital is perfectly suited for children and soothing for parents. We would also like to appreciate the cleanliness maintained in hospital at all the floors along with play area.
Dr. Anirudh Sir & Dr. Amar Sir are very knowledgeable, friendly and cooperative with any questions. My son's health is very well now.
Undoubtedly the best pediatric surgery hospital which serves kids with a different touch of care and we are lucky to have in Ahmedabad.
We heartily thankful to Dr Anirudh Sir, Dr. Amar Sir and the entire staff of Amardeep Hospital.
Jaimin Shah
Charted Accountant, Ahmedabad
cajaimin88@gmail.com